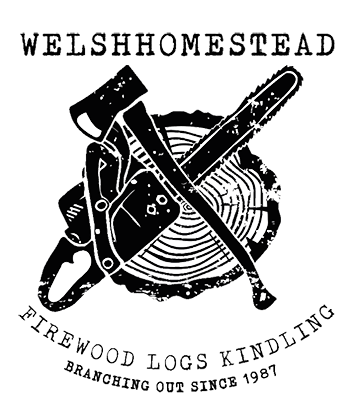 Over 30 years of experience as a tree surgeon and landscaper has helped to develop a knowledge of the different woods and their uses. Our aim is to provide good quality, barn-dried hardwood logs at a reasonable price. Ideal for firewood.
We locally source mainly hardwood and sometimes softwood. We can also provide bags of kindling or net bags of logs if required.
Our logs are naturally barn dried and we recommend a dry and airy storage area for your logs in order to maximise the heating efficiency of your appliances. It will always be beneficial to bring your logs inside the house for a few days prior to burning.
If you have any questions about our firewood and logs we have an FAQ at the bottom of this page. If you have any other questions just use the contact form either on this page or on the contact page.

20 minimum order for delivery*

No Minimum*

No minimum if ordering with log order

Top Quality Kindling

Our softwood kindling is as good as it gets
One Cubic Meter

No Plastic Bags

We deliver it in our tipper for you – no plastic used

Hardwood

Approx 90% Hardwood. 10% Larch when available
20 minimum order for delivery

Easy to Handle

In the house or wood store these packs are ideal

Hardwood

100% hardwood – top quality guaranteed


We get asked a lot of questions when firewood and logs are being ordered. To help you, we have listed the most popular questions and answers in our FAQ. If you have any other questions, please contact us and we will get back to you.
What Size are your logs?
Our logs are cut to approximately 22cm (8 inches) in length which should be a good size for most log burners, open fires and cooking ranges.
How is the cubic load delivered?
A cubic load of logs is loose. We use a Landrover with a tipper so will need an accessible place to tip your logs. You can then stack these at your leisure.
How do I pay?
We can accept cash on delivery, a bank transfer, or payment by card or Paypal using the links on our invoice. Please let us know which method your would prefer.
Where do you deliver to?
We deliver free of charge within a 10-mile radius of Penwuch, Ceredigion. If you are outside of this area please use the Order Form above to send us your details and your postcode and we will get in touch with a delivery cost.
How many cubic loads can i buy?
We can bring up to two cubic loads on the Landrover and up to three cubic loads on our trailer.
How long do i have to wait for delivery?
We can usually deliver within a week. However, we will be in touch to arrange this with you.